The post Will Bitcoin go Back up? by Logan Ross appeared first on Benzinga. Visit Benzinga to get more great content like this.
Want to start investing in Bitcoin? You can purchase BTC directly on eToro.
Bitcoin has seen exponential gains over the last decade, but it wasn't without huge drawbacks that wiped out many portfolios. Every few years, Bitcoin will retrace around 80% in value over an extended period time –– sometimes referred to as a crypto winter. Even after these prolonged bear markets, Bitcoin seems to find its way back into the mainstream media with face-melting gains. While we've experience volatility on both sides, you may be asking, will bitcoin go back up?
Unfortunately, we don't have a crystal ball, but here's why most experts think that crypto is just getting started.
Is Bitcoin a Bubble?
Approximately every 4 years, the block reward for Bitcoin mining is cut in half. This event, known as "the halvening," creates a somewhat predictable supply crisis leading to the formation of a new market cycle – or "bubble". 
While some believe in a 4-year market cycle pattern, data scientist Benjamin Cowen suggests an alternative theory: lengthening cycles with diminishing returns. This theory is based on Bitcoin's ability to extend, and stay extended, beyond the fair value for years at a time. 
The bitcoin bull run in 2014 featured a double bubble. An initial price hike, followed by a severe correction and a subsequent accumulation phase all leading up to a 2nd blow-off top down the road. Each consecutive market cycle saw diminishing volatility and took longer to reach the 2nd peak when measured from the bottom.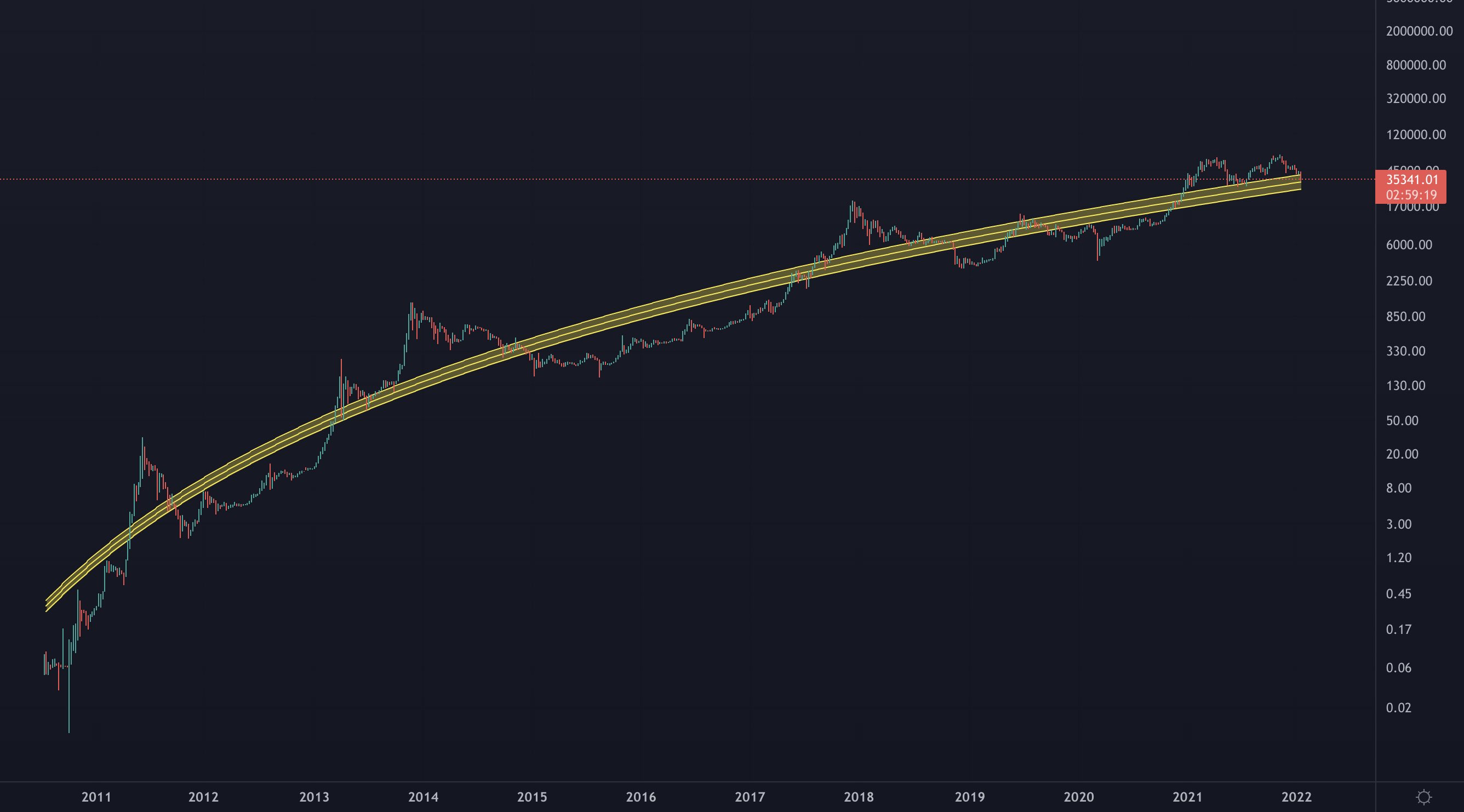 According to this model, the current market cycle is only halfway over with the best yet to come later in 2022.
How High Will Bitcoin go?
While no one knows for sure, why not do some dubious speculation for entertainment purposes. 
According to the Cowen model, the answer depends heavily on timing. As time passes, a monotonically increasing fair value (calculated by taking the natural log of the price to fair value ratio) allows for a potentially higher peak. 
Source: https://www.youtube.com/watch?v=5Uz5tx4264E&ab_channel=BenjaminCowen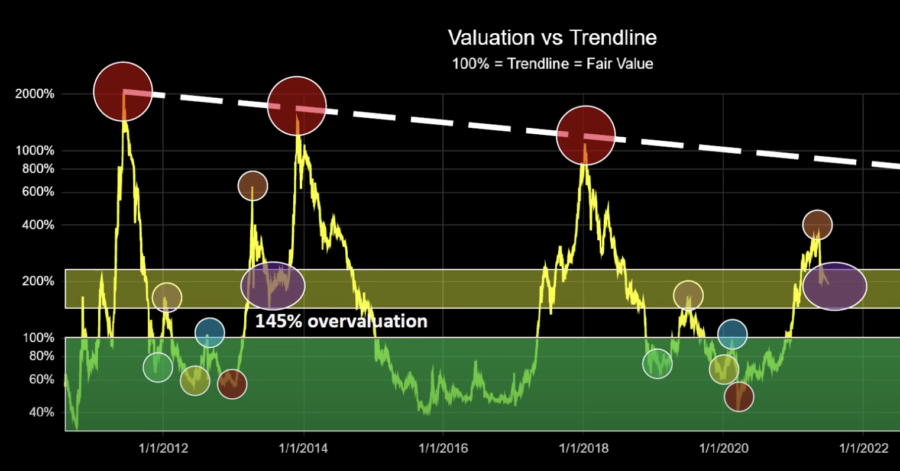 If the peak occurs in July 2022, however, the price could be closer to $200,000. The later it occurs, the higher it has the potential to be. 
Mainstream Crypto Adoption
Taking a step back from price and market cycles, Bitcoin and cryptocurrencies like Ethereum have the capability to change the world in a truly meaningful way. 
What is Blockchain?
Blockchain technologies allow for decentralization of some of the most important aspects of human life. From money to supply chain to real estate, decentralization stands to make humanity more efficient all while lessening reliance on corporations and government. 
The key to decentralization is that users need not place their trust in any 1 central authority, be it a government or a corporation. Instead, users must place their trust in a system of rules that are laid out in open source code for all to see and scrutinize. 
Blockchain technology allows money and a plethora of other financial services to be provided at a fraction of the cost of traditional alternatives. While banks charge huge interest rates and provide abysmal yields in return (taking the margin to fund their expensive operations), blockchain transactions are cheap and scalable.
What is Money?
Fiat currencies issued by governments represent trust in the government, and their ability to remain around for long enough to cash in your value when desired.
The 2008 financial crisis convinced Satoshi Nakamoto, the creator of Bitcoin (BTC), that the government and the banking industry shouldn't be the ones in control of the money. Satoshi's solution: programmable cash on a decentralized ledger powered by blockchain. 
At its core, money is any system that can be used to allocate human resources. As humans evolved from hunter gatherers and began to specialize, barter trade became necessary. Bartering is inefficient and exchange rates between a constantly growing number of crafts made for incredibly inefficient allocation of resources. 
Different tribes invented different standards to simplify the process. Once the group could collectively agree upon an item all saw value in, it could reduce the number of trading pairs exponentially. Agreed-upon stores of value led to a dramatic increase in efficiency of allocation. 
As the most successful tribes began to trade with their neighbors, stores of value such as perishable food and religious items became obsolete. Eventually, nation states formed out of necessity to maintain the pace of growth in trade and population. 
These nation states issued metal coins. Metal coins could be melted and made into tools, giving them direct value. You could be sure that you were receiving the correct amount of value thanks to the recognizable face stamped into the coin. 
Eventually, metals became too cumbersome for large-scale use, and continued innovation pushed these nation states to issue papers instead, which of course were fully backed by metals in a vault somewhere. You can be sure that your paper represents real value thanks to the recognizable face printed on the front. 
Then, the U.S. abandoned the gold standard in 1971. Now, you can be sure that your paper represents real value because some guy on the front will accept it for taxes. And, if that guy will take it, then so should you! That is, unless that guy happens to be not so trustworthy. In that case, you can be sure your paper will work great for note taking!
All jokes aside, government-issued fiat evolved out of necessity and lack of a better alternative. Malicious governments took advantage of the fortunate situation they found themselves in by printing massive amounts of currency for personal gain, destroying the purchasing power and livelihoods of their citizens. 
In America in 2019, stories of hyperinflation in post-World War II Germany and Zimbabwe seemed impossible, and then COVID-19 shut down the economy. Since then, COVID relief bills have set the printing press ablaze causing the amount of money in circulation to double in a handful of months. As Americans are now faced with the threat of losing half of their purchasing power over the next decade, they must turn to an alternative store of value or pay the price. 
Luckily in 2009 a better alternative to government-issued fiat was invented: Bitcoin. Bitcoin is a globally agreed upon store of value that requires users to place their trust in a system of rules rather than the promises of an individual they've never met. 
Better yet, the rules of Bitcoin say that there can never be more than 21 million in existence. In stark contrast to fiat currency, Bitcoin is sound money. A simultaneous hedge against inflation and reclamation of power by the individual. 
Bitcoin is money for the modern era. And blockchain-powered cryptocurrencies allow for the most efficient allocation of resources the world has ever seen.
Where To Buy Crypto
If you're located in the U.S, there's plenty of crypto exchanges for you to invest in cryptocurrency with. Of these, Coinbase, Gemini and eToro reign supreme. If you're looking to own some crypto but aren't ready to risk your hard-earned money, Coinbase has a program that gives you free crypto for simply learning more about blockchain technology!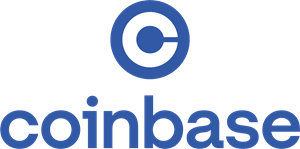 earn free crypto
securely through Coinbase's
website
1 Minute Review
Coinbase is one of the Internet's largest cryptocurrency trading platforms. From Bitcoin to Litecoin or Basic Attention Token to Chainlink, Coinbase makes it exceptionally simple to buy and sell major cryptocurrency pairs. 
You can even earn cryptocurrency rewards through Coinbase's unique Coinbase Earn feature. More advanced traders will love the Coinbase Pro platform, which offers more order types and enhanced functionality.
Though Coinbase doesn't offer the most affordable pricing or the lowest fees, its simple platform is easy enough for complete beginners to master in as little as a single trade.
Best For
New cryptocurrency traders
Cryptocurrency traders interested in major pairs
Cryptocurrency traders interested in a simple platform
Pros
Simple platform is easy to operate
Comprehensive mobile app mirrors desktop functionality
Coinbase Earn feature rewards you with crypto for learning about available coins
Cons
Higher fees than competitors

Invest In Crypto
securely through Gemini Crypto's
website
1 Minute Review
Gemini is a cryptocurrency exchange and custodian that offers investors access to over 100 coins and tokens. Founded in the US, Gemini is expanding globally, in particular into Europe and Asia. Offerings include both major cryptocurrency projects like Bitcoin and Ethereum, and smaller altcoins like Orchid and 0x.
Gemini is 1 of the only brokers with multiple platform options based on skill level. New investors will love the streamlined interface of Gemini's mobile and web apps, while advanced investors might appreciate all the tools that come with ActiveTrader. 
In addition to a host of platform choices, Gemini users also have access to insured hot wallets to store tokens without worrying about digital asset theft. Learn more about what Gemini can do for you in our review.
Best For
New investors looking for a simple mobile and web app
Day traders looking to use technical analysis tools
Users looking for a 1-stop-shop to buy, sell and store all of their cryptos
Pros
Easy and quick signups — can get started in as little as a 5 minutes
Multitude of platforms to accommodate traders of all skill levels
Hot wallets include insurance to protect your from theft and hacking attempts
Cons
Charges both a commission and a convenience fee for users buying and selling through the desktop or mobile app
get started
securely through eToro's
website
Disclosure: eToro USA LLC; Investments are subject to market risk, including the possible loss of principal.

1 Minute Review
eToro, headquartered in Cyprus, England and Israel, has provided forex products and other CFD derivatives to retail clients since 2007. A major eToro plus is its social trading operations, including OpenBook, which allows new clients to copy trade the platform's best performers. Its social trading features are top notch, but eToro loses points for its lack of tradable currency pairs and underwhelming research and customer service features
Best For
U.S. based cryptocurrency traders
Investors looking to CopyTrade other traders
Simple user interface
Pros
Several major cryptocurrencies and altcoins
Expansive network of social trading features
Large client base for new traders to imitate
The post Will Bitcoin go Back up? by Logan Ross appeared first on Benzinga. Visit Benzinga to get more great content like this.