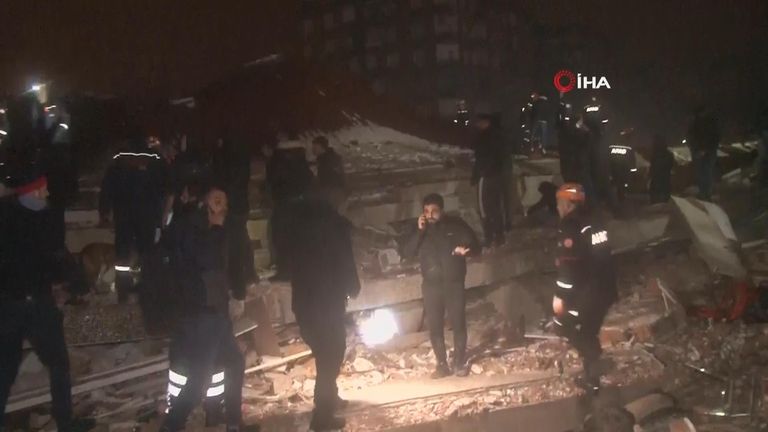 A 7.8-magnitude earthquake has shaken southeastern Turkey, killing at least 10 people according to authorities.
The quake was centred about 20 miles from Gaziantep at a depth of 6 miles and there were five powerful aftershocks, according to reports.
Several buildings have been destroyed as people gathered outside on snowy streets, according to images on state broadcaster TRT.
The governor of Osmaniye province said at least 34 buildings had collapsed due to the quake.
Turkish President Recep Tayyip Erdogan said on Twitter that "search and rescue teams were immediately dispatched" to the areas hit by the quake.
"We hope that we will get through this disaster together as soon as possible and with the least damage," he wrote.
There were at least 6 aftershocks and he urged people not to enter damaged buildings due to the risks, Interior Minister Suleyman Soylu said.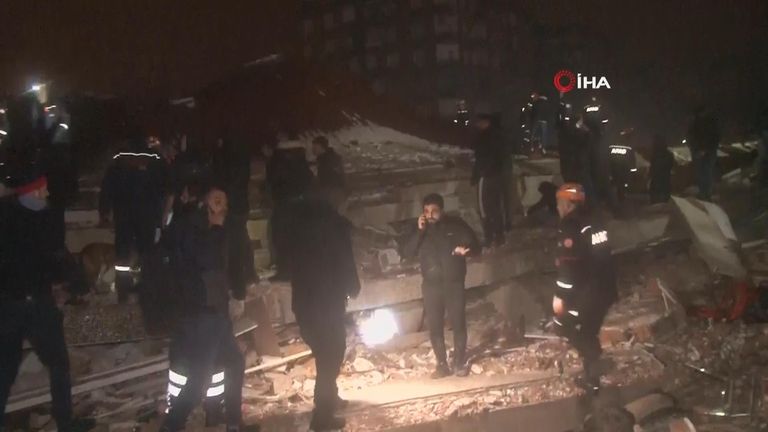 "Our priority is to bring out people trapped under ruined buildings and to transfer them to hospitals," he said.
In Sanliurfa, at least 10 deaths have been confirmed, according to Gov. Salih Ayhan.
Several buildings tumbled down in the neighbouring provinces of Malatya, Diyarbakir and Malatya, HaberTurk television reported. There were no immediate reports on casualties.
The earthquake was also felt in Syria, Lebanon and Cyprus.
A strong 6.7 aftershock rumbled about 10 minutes later.
Syria's state media reported that some buildings collapsed in the northern city of Aleppo and the central city of Hama.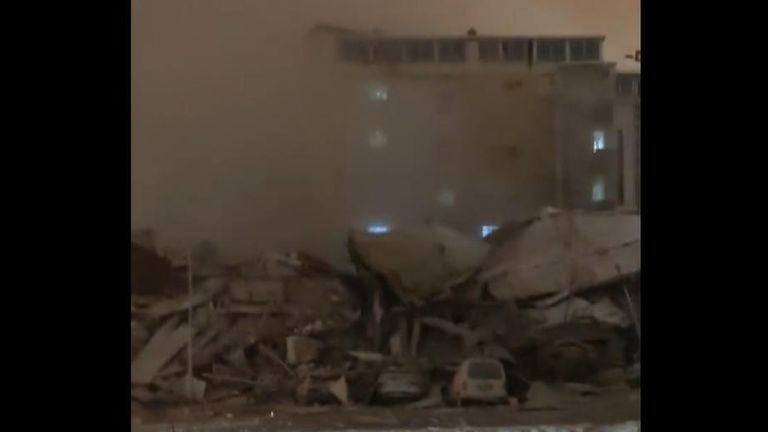 In the northwest of the country, the opposition's Syrian Civil Defence described the situation in the rebel-held region as "disastrous" adding that entire buildings have collapsed and people are trapped under the rubble. The civil defence urged people to evacuate buildings to gather in open areas.
In Beirut and Damascus, there were reports of buildings shaking and people gathering on streets in fear.
There have so far been no reports of fatalities or serious damage Lebanon or Cyprus.
Turkey sits on top of major fault lines and is frequently shaken by earthquakes.